Carry The Casket was a great hardcore band from Orange County. Not really formed in the ashes of anything other than cigarettes and smoldering dreams, they became a formidable opponent to not only their own livers, but people's ears and eyes.
the band's myspace says that they formed in 2003 and recorded a demo in 2004. the demo was packaged in a DVD case, much like the Graf Orlock "corpserate greed" demo, and featured a photo of a graveyard in front of the whitehouse, which is a strong indication of their lyrics.
the demo is credited to
JOLLY- BASS GREG- GUITAR NICK DIBS-DRUMS JERRY- OBNOXIOUS TWAT
and was recorded in a mobile home in costa mesa
in 2005, two split 7"s were released. one with The Mistake and one with Motherspeed.
the Mistake split had no less than 5 different covers, released by Prime Directive Records. the lyric sheet is one of my favorites ever, literally just a photocopy of the lyrics emailed to Cheesegrater. genius.
the lineup on those splits was the same. they were recorded at Shiva Industries by (i think) one of the dudes in Mindrot.
the thanks list on the Mistake list includes this
"FUCK ANYONE WHO WAS BUMMED WE DIDNT THANK THEM DIRECTLY. YOU ARE A FUCKING PUSSY. FUCK ANYONE WHO HAS EVER ARRESTED GREG. FUCK THAT SOUND GUY IN SANTA CRUZ. FUCK THE VAULT 350"
the thanks list on the Motherspeed split says
"CARRY THE CASKET WOULD NOT LIKE TO THANK ANYONE"
in 2006 CTC got a new drummer and started recording a full length, titled "feed me drugs until i choke". The vocals for only a few songs were ever recorded and lyrics not even written for all of them. i dont even know if all of the instruments were recorded, but the thing could have easily been finished. members blamed each other for laziness, apathy, and various states of sobriety for the debacle the album became. i witnessed first hand the anger and anguish that was caused.
i dont know when Carry The Casket played their last show, and i dont think they had an "official" last show. the last time i remember seeing them was at the Mistake's first last show at the Roc bar in costa mesa, and they fucking slayed. that was a great time, playing with bands like Pressvre, Come And Get It, Graf Orlock... bands playing in warehouses and bars and not giving a fuck.
i know that Carry The Casket played out of state a few times, but i dunno that i'd call them "tours". i remember being regaled with stories of meeting members of Gehenna on the road and taking various psycotropic drugs.
ive collected here the 2004 demo, and the songs from both splits. i highly doubt the LP will EVER see the light of day, and thats kind of a shame.
Jerry and Greg went on to form Neon Claws with me. Jerry always told me that Dan was in some band that allowed "pussy and coke to be thrown at him". Gettman formed a band that featured just him and a drummer, playing 22 minute songs with no parts repeating. sounded painful yet awesome. Justin Jolly was in a few bands like Cold War, Perish, and is just doing whatever he does.
www.myspace.com/carrythecasket
from their myspace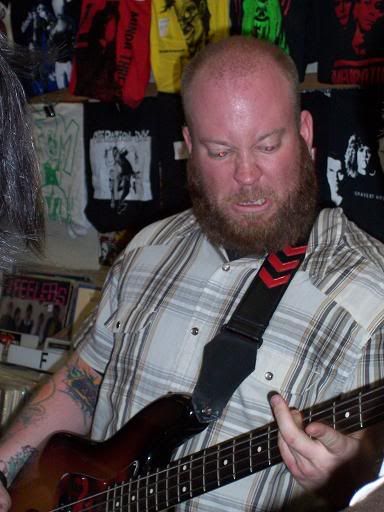 ctc at Vinyl Solution, photo by me
the mistake played this show, and afterward we all went to Johnny's bar and i spent over 250 dollars on alcohol, earning the nickname "rich uncle jav" and almost being sent home from work the next day for smelling like gin.
Carry The Casket
http://rapidshare.com/files/236848467/CarryTheCasket.zip