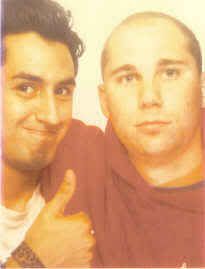 I was watching the Throwdown DVD yesterday. there are soooo many good dudes in that video, but one of the funniest and most awesome is also one that i probably know the least out of anyone in that movie. Dave Mandel.
my first introduction to Mandel was from his zine, Indecision. It was a fucking great zine, huge with tons of amazing pictures and interviews with the biggest bands of the day. towards the end of his run publishing Indecision, he started doing mini-zines called CAN'T FORGIVE. they were more personal and i totally related to them, being an angsty-type teenager. i could tell that he was in the "hardcore elite" of the day, being friends with all of the big bands like Strife and stuff.
the first time i ever saw a picture of him was in Christine Doan's zine, STREAMLINE, where there is a pic of this unassuming dude with bleached hair and a letterman's jacket talking on a payphone. then, of course, there was the whole "Mandel can suck it" record...
i remember this concert called BOARD IN SOUTH BAY at Cal State Dominguez Hills, and Sick Of It All was playing. this smaller dude in a Youth Of Today tank top was pushing around the bro-type dudes who were ruining our fun, and someone leaned in and said "thats Dave Mandel"
i dont remember when i finally met Mandel. maybe it was when Throwdown got signed to Indecision. i remember him bringing Taylor Steele (the singer of 4 Walls Falling, not the film maker) over to softcore one night. we somehow became friends, and i remember my kid almost falling in his pool once.
the picture above was taken at Lazerstar, in Oxnard. i think Throwdown, possibly 18 Visions was playing, and there was a photobooth. we went a little picture crazy that night, and this picture is from a series where i made 4 different people jump in with me. i am very proud of this picture. the expression on his face is amazing.
i sent Dave an interview for All Over This Town about 3 months ago, and last i heard from Itow is that he is "working on it" and ill get it soon. should be interesting.